What do you really want, or need, a website for? What is your intended purpose? For any healthcare business owner, the goal, ultimately, is surely to use the Internet as a marketing tool, to generate more business for your clinic. To make money from it.
So let me ask a question. Within your healthcare practice, do you use metrics to determine what is and isn't working? What areas your health clinic is making money from and which you're maybe not? Which services are popular? Is it Chiropractic, Osteopathy or Massage Therapy that clients are preferring? How much orthotics business is your Podiatry clinic doing? What dates or days or weeks or months are best for running certain promotions?
You can see where this is going, right? Ok, so I'll ask the question. Do you also measure how well your healthcare practice website is doing?
For many healthcare clinic owners, the issue is that they simply don't know how to measure it! Many will say that they're just not "techie" types, or that they don't have enough time; too busy running the healthcare practice. Well, we all have 168 hours every week, and there are very few people who don't know how to click a mouse button to send an email or check the Lotto numbers, and those things require the exact same tech ability needed to check your website's analytics.
So really, what is the issue? Is it honestly that it is too "techie" or have you just never been shown or told what to do? Do you really not have enough time or is it really that the process is in the "too hard" basket simply because you think it is too hard?
In this article, we'll have a look at Google Analytics, break down some of the jargon to make the process easier to understand and touch on some metrics that are good, and equally, some that are bad, for your healthcare business.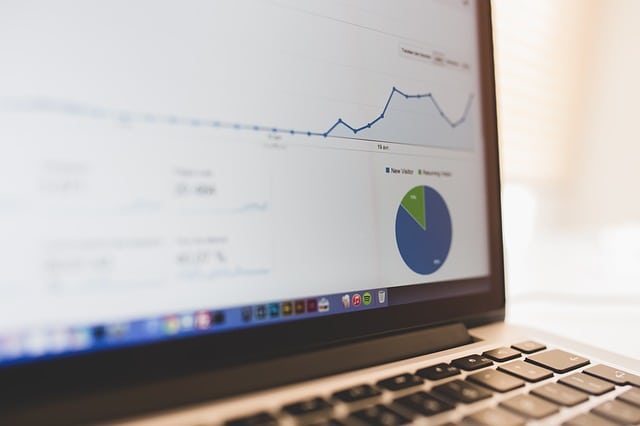 Bums on seats?
It's all about the visitors, baby!
When it comes to healthcare websites, whatever your objective, it will not be achieved if your website does not get its primary performance indicators – the visits and the views. What is the use of a website and its pages if there is no one landing on them and reading the content? No visitors, no customers, no sales.
The search engine giants like Google, that make their money by collecting search data and reselling it in various guises, also provide a free set of tools that allow you to track and analyse the performance of your clinic website. They're free because they collect the data that Google then uses to sell its services, like paid advertising. So Google makes money from your data. But that's fine because in turn, Google's tool for viewing this data, called Google Analytics, is free. Another large player in the website analytics space is Yandex, which is Russian owned and a very good alternative to Google's tool. Their service is also free and actually provides some analytics that Google doesn't. But for the purposes of this article, we'll stick with Google Analytics.
In typical tech industry fashion, the boffins at Google tend to populate their tools with more than a sprinkling of jargon. In Google Analytics we see terminology like Sessions and Pageviews, all of which seems a bit daunting to the uninitiated. But it needn't be. Indeed, it is pretty simple when broken down
Sessions – are the visitors to your healthcare practice website. When someone comes to your website, the first page they see automatically creates a new "session" from an analytics perspective. The session remains active until the visitor navigates away from your website.
Pageview – are each separate pages that your visitor looks at. Each time they load a page, that becomes a new Pageview.
Whatever your intention, your website needs traffic, visitors viewing pages – sessions and page views – so these analytics are a good method of measuring the success of your site.
But how do we get potential healthcare patients to the website? And then, once we've achieved that goal, what metrics should we be looking at most when considering the relative success of our online marketing efforts?
SEO or Search Engine Optimization has become the primary method to get the necessary hits your website needs. SEO has progressed from the early days of manipulation of keywords and (artificial) "link building", to now be a much more diverse range of activities that can be summarised as "effective use of social media and content marketing". Google's algorithms and those of the other search engines have also become more intelligent, almost mandating that websites have relevant and updated content boosted by reputation gained from social media and posts on other websites.
While the metrics we see on Google Analytics are important, it is more important that we don't allow ourselves to have tunnel vision when looking at them. Targeting a single metric can be detrimental not only to other important metrics, but ultimately to your bottom line, the business your website generates.
So what are some metrics that are often touted by "experts" as THE most important metrics, and how should they be considered without becoming bogged down, committing too many resources just to improve a single metric, while foregoing the others? There are two biggies…
The "Page One" Metric
The Holy Grail! Everyone knows how important it is to be on Page 1 of the SERP (Search Engine Results Pages). If your email inbox is anything like mine, you likely have about a dozen emails just from this morning telling you how some company can get your practice website to the top of the Google search results, and they can do it better than anyone else.
And if you believe them, I have a nice bridge you might be interested in buying.
Yes, getting onto Page 1 is important. But it shouldn't be an all-consuming goal. Increasingly you will get traffic from a lot of other sources, especially social media. This is where the analytics is important. Seeing where the visitors that have viewed your website have come from is probably more important for your marketing efforts.
Don't get me wrong. Being on Page 1 is a good goal, it just shouldn't be the only goal. If your website is already there, then your ranking goal shifts from "getting" there to "maintaining." You need to consider the following concepts that can affect your search rankings:
Keywords: Your website needs to not only be using useful keywords – the terms people will search for to find your business – but it needs to be using them effectively, in content that is genuinely useful for your target audience
Local: If you are running a healthcare practice, you service a local area. There is no sense targeting Perth if your Podiatry clinic is in Brisbane. Use terms and content that helps Google identify WHERE your business is located and the area you service. Schema Data, which all Clinicbeat.com and Insites healthcare websites include, is a very useful tool to this end.
Content: Put simply, content is king. Google's algorithms tend to index more of the websites with good content that is both relevant and useful to your target market. A Content Strategy is paramount to the success of your healthcare website's "organic" search engine ranking.
If you want to get into Page 1, create relevant and interesting content, which targets the current hot topics being ingested by your intended readers in your LOCAL area, and strategically share it on social media. But don't make Page 1 your only goal. It is only one source of visitors.
Bounce Rate
The bounce rate is a website performance metric that is commonly misinterpreted, especially for healthcare clinic webites. By definition, a "bounce" means a visitor that comes to your site then leaves without further "interaction". They "bounce off" the site. On the surface, this can seem like a serious concern. Is there a problem with the design of the site? Is the content bad or not appealing?
Not necessarily. It has to be put in context.
The first thing that must be considered is the definition of "interaction". A bounce is not necessarily a visitor who "immediately" leaves the site. Bounces happen when visitors land on the site but view only one page, then leave without clicking any links or interactive elements. So even if the visitor stayed on the site for an hour, read a lengthy article, or watched a video until its completion – if he/she viewed only one page – that will still count as a bounce to the Googlemeister.
Consider, also, that visitors to your healthcare website may simply be looking for a phone number, address or map that shows them your location. They visit the site, obtain the information needed, and leave. Bounce.
A bounce can also be a good thing! It could, for example, indicate that the visitor arrived at your website, immediately found the information they were seeking directly on the page on which they landed, then left happy. A very good user experience. But still a bounce in Google's view.
The thing to consider with bounce rate is an increase in new visits is proven to bring a high bounce rate. The behaviour of new visitors usually does not go beyond viewing more than the first page they land on. However, their visit brings them an awareness of your practice's existence and its underlying message, which should be central to the theme of your website. It could also be that they've bookmarked your website with the intention of returning at a later time to browse your information.
Bounce rate has been touted by some as an absolute gauge that the visitors are not of good quality. For healthcare clinic websites, that is not necessarily the case. An extremely high bounce rate could indicate a problem but expect your bounce rate to be higher than for some other industries.
Key Metrics
If you're like most healthcare practitioners, spending a lot of time on this stuff just isn't going to happen. So if you only have a small amount of time to dedicate to the online portion of your marketing, these are the metrics on which to focus:
Users – The number of people that visited your site during a specific timeframe. If the number of visitors isn't increasing, even slightly, then your efforts are likely not working, at least not in your favour.
Top Landing Pages – Pages on your site that your visitors think are most important. Looking at the top landing pages can give you insight into which pages on your website are performing well. This can give you a good idea of what information your visitors find most useful, which is a trigger for the kind of additional content you should be adding.
Traffic Referral – Shows you where online visitors originally came from. It is critical to know where your traffic is coming from so you can see if your efforts in certain areas are paying off. For example, you will be able to see if a social campaign on Facebook is funnelling visitors to the targeted service page, or if a post on Twitter leads people to read your latest blog.
Focus your attention on these areas. They will help you build a content strategy to continually improve your site's ROI.
Final Note…
Any website needs traffic and good reputation to deliver a good ROI. For different types of websites, ROI is measured differently. Unless you're specifically selling products or services directly on the website, it can be difficult to precisely determine how well it is converting visitors into clients. For healthcare practices, the most important factor in a website that delivers is content. Show the prospective client what they're looking for and you'll convert them. Share that content on other websites and social media to draw more visitors to your website. A good content strategy covers practically all bases. You'll get better SERP ranking and more traffic from social media and other websites.
Win win.